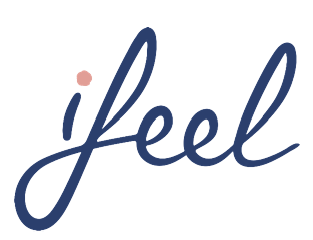 ifeel is the pioneer in the online care of emotional well-being services for individuals,
companies and employees, accompanying Human Resource departments in achieving their
objectives.
With ifeel's therapy all communication between patient and psychologist takes place online,
through video call sessions or an asynchronous chat. Thanks to this online communication the
patient can comfortably perform their therapy, saving time and money while taking care of
their well-being. ifeel knows that each case is unique, that's why they take care of matching
each person with the professional who is best able to help them.
Apigee enables customers' users onboarding in ifeel, in a scalable and secure way
"Apigee is providing ifeel with the ability to offer its services to business partners and enables a smooth and easy integration with the platforms of their clients" "All in all, Magic Beans' implementation of Apigee has been a game-changer for ifeel"
Santy Prada
Chief Technology Officer
ifeel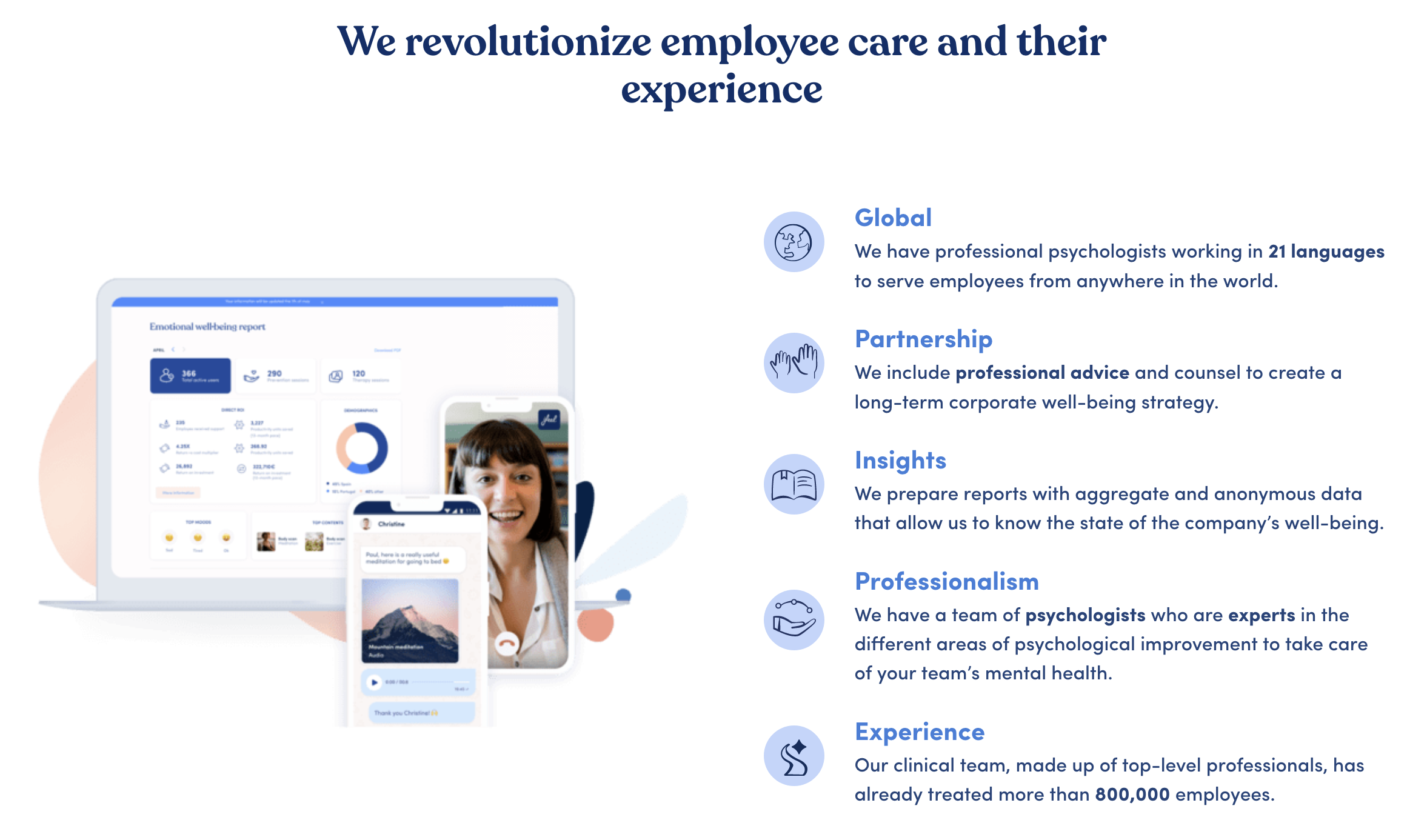 Why Multi-Cloud and Magic Beans?
At Magic Beans we live and breathe Multi-cloud. From our foundation in 2017 we only have done Cloud professional services: hundreds of migrations from on-premise to the Cloud or among Clouds, hundreds of Modernization of Applications projects taking advantage of the new services and architectures available. And on top of that we provide a complete Managed Services to optimize Multi-Cloud operations. In a nutshell we are experts in move, modernize and manage.
We accompany clients, like ifeel, in their digital transformation journey, analyzing the different options available in the global ecosystem of Cloud services and proposing the best alternative for each use case. Apigee fits perfectly on ifeel's use case.
In addition to ifeel's traditional services for individuals (B2C), they have a growing business on well-being services for companies and their employees (B2B). This B2B service grew around 70% during the pandemic lock-down.
To implement B2B services they must deal with a complex onboarding process of the company's end-users on the ifeel's platform. So far, the process was done through file transfers between the customer company and ifeel, and that required all kind of manual controls, to guarantee the accuracy and the security of the process. And a similar process was needed to deal with all the employees' changes, sing-in/out and their access rights to ifeel's services portfolio.
That onboarding process implied a heavy human workload that was not scalable and could lead to errors, incidences and delays. And all of this, would compromise the quality of the customer experience, and therefore it would impact the business of ifeel.
ifeel applications are running on AWS infrastructure, but we found that a best-in-class API management solution, like Apigee, could facilitate the new B2B user onboarding process, isolating all the complexity. And this is what we proposed to ifeel.
To implement that approach, it was necessary to create a set of users with the required permissions to operate within the Google Cloud infrastructure, following the best practice of assigning minimal privileges. Next, a Virtual Private Cloud (VPC) with a public subnet was created. This subnet is hosting the connection to the Apigee Organization through a load balancer that receives and distributes requests among two Compute Engine instances and communicates with the Apigee execution environment.
Finally, Apigee has the mechanisms to expose the different endpoints that ifeel has currently decided, redirecting calls from Google Cloud to AWS. The high-level definition of this is reflected in the solution architecture diagram below: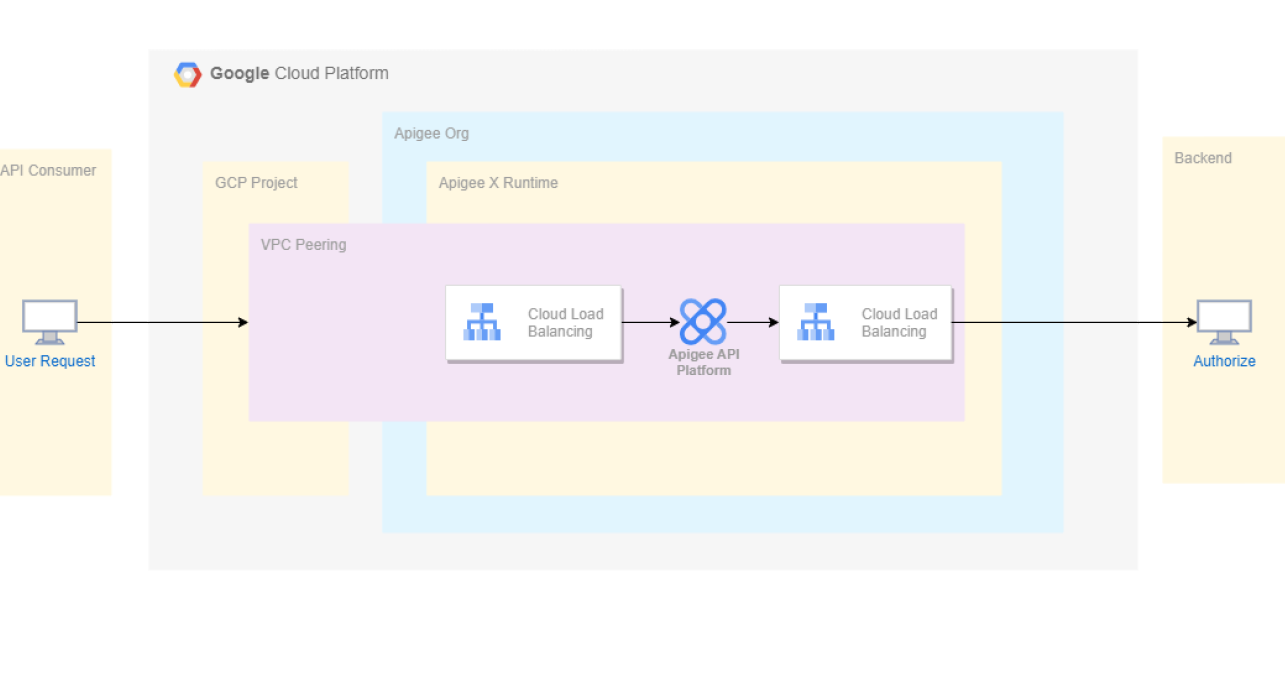 The new solution based on Apigee reduces the integration process with clients from days to hours. And in addition it allows ifeel to reach new important clients that would not have accepted working with the previous onboarding method.
Apigee is providing ifeel with the ability to offer its services to partners and enables a smooth and easy integration with the platforms of its clients. This agility allows ifeel to develop the backend with a significantly reduced time to market, facilitating business growth at a faster pace.
The new onboarding process using Apigee will allow ifeel to avoid the human factor that was needed before, making it more efficient and scalable. Also possible mistakes made in the onboarding process are avoided with this new method. Summing up, this will allow ifeel to fulfill the needs that several of their clients are asking for, and even
more importantly, it will allow ifeel to reach new clients, for whom this kind of process is compulsory.
Furthermore, as an API manager, Apigee boasts an excellent catalog where technical descriptions of the endpoints enabled for ifeel have been published. Among its main features, it highlights the different request formats, input parameters, and response types available in the API. With that, ifeel can streamline the onboarding process for its
partners by providing a professional documentation platform that not only comprehensively explains the functioning of the exposed APIs, but also allows testing and coverage in various programming languages.
This platform also enables the exposure of API product packages based on the partner's subscription plan, simplifying the backend's internal logic by decoupling the authentication and federation part to Apigee's broker.
As ifeel experiences exponential growth, the amount of data its systems use increases significantly. In this regard, Apigee's capability to offer visibility within these systems becomes crucial. Apigee incorporates request tracing mechanisms that allow ifeel to follow the origin, type, and response of the requests, facilitating near real-time
analytics such as system latency and request counts, while also identifying them by partner type.
In tandem with the extensive internal visibility provided by Apigee, security mechanisms are implemented to detect and counter threats through defined and custom policies.
All in all, Magic Beans' implementation of Apigee has been a game-changer for ifeel. It's facilitating their exponential growth, modernizing a non-scalable onboarding mechanism, with a much more open, elastic, and adaptable one, that is supporting both current and future business needs.
To learn more about how Google and Magic Beans can help your business, contact us at team@magicbeans.pt

© Copyright - | magic beans | All Rights Reserved | Powered by: valkirias